Junkers Ju 88 G-6

Luftwaffe Aviation Art - Color profiles by Simon Schatz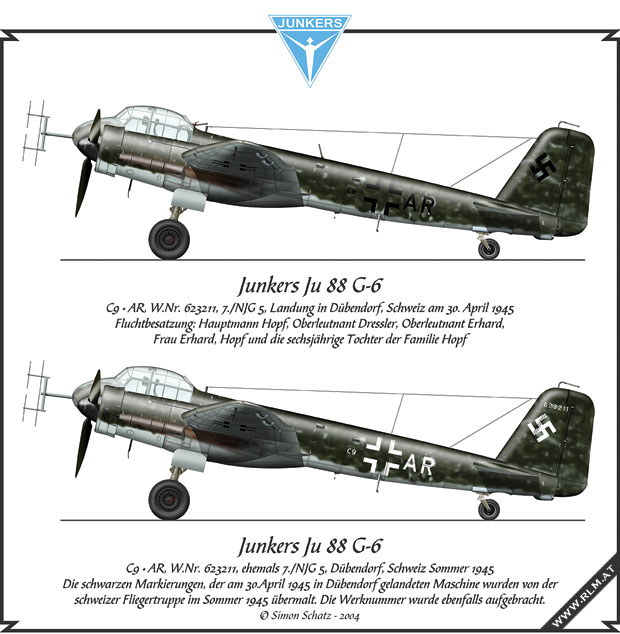 Markings

C9+AR, W.Nr. 623211, 7./NJG 5, Dübendorf, Switzerland, 30th April 1945




References / profiles

Grenzverletzungen 1939 bis 1945 - Landung im Morgengrauen
Hans-Heiri Stapfer, Cockpit Magazine June 1995




Additional informations

Ju 88 G-6, W.Nr. 623211 with the call letters C9+AR was assigned to the 5.Staffel of Nachtjagdgeschwader 5. The aircraft was equipped with the most modern radar available at that time. It had the FuG-218 V/R "Neptune", FuG -217 R, FuG- 15, FuG -10, FuG- 6 and FuG- 101. Since the aircraft was also used in the night ground attack role against enemy ground troops it had the factory applied RLM 75/76 camouflage painted over with dark green colors. The aircraft also had ETC bomb racks. Further armament consisted of 4 MG 151 in the nose and two MG 151 "Schräge Musik" firing upward in the rear fuselage.

On April 30.1945 at 01:30 hours this aircraft took off with an unusual crew. On board was the commander of 8./NJG 5 Hauptmann Hopf, as well as Oberleutnant Dressler also from 8./NJG 5 and Oberleutnant Erhard of 10./ NJG 11. The wives of Hopf and Dressler as well as Hopf's six year old daughter were also on board. Their destination was neutral Switzerland. At 05:15 hours Hauptmann Hopf was able to land safely at Dübendorf airport.

The aircraft was "improved" during the summer of 1945 by the Swiss air force. The black markings on the fuselage and the tail were painted over in white. The W. Nr. was also painted over. Later the aircraft received Swiss markings. On 25. September 1949 the aircraft had its last public viewing and shortly thereafter it became a victim of the welding torch.

meet the Author:

Simon Schatz

1978 I was born in Vienna and I am working as technical employee in an architect's office. I am building plastic models since I am 12. It started with a F-16 Fighting Falcon in 1/32, which was followed by a few cars and trucks. A Heinkel He111 H-6 in 1/72 brood my interest for the German Luftwaffe. Since 2001 I am creating color profiles also.

Some of them have been already published in relevant magazines and books. The motto for building models and drawing profiles is the same: Learning by Doing. To practise my passion it is required to collect the necessary documentation, an expensive, but interesting hobby, especially when I can obtain rare second hand aviation antiquars.
Email: simon_der_flieger@yahoo.de
Online-Portfolio / Publications


This page: PROFILES: Junkers Ju 88 G-6
was last modified on: Sep 17, 2006
The URL of the page is: http://www.rlm.at/cont/profil13_e.htm

Translation into English by Werner Stocker (Ft. Myers, FL USA).

© Copyright www.rlm.at and the contributing author(s). All Rights Reserved. Used with permission.

Terms of use: All material within this site is protected under copyright and may only be reproduced for personal use. You must contact the Author(s) and/or Editor for permission to use any material on this site for any purpose other than private use!