Dornier Do 335 V3

Luftwaffe Aviation Art - Color profiles by Simon Schatz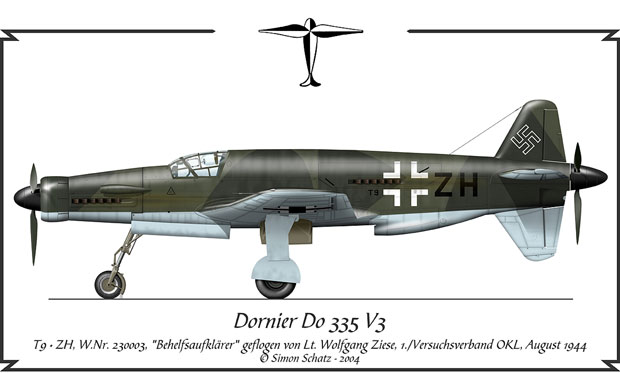 Markings

CP+UC, that is to say T9+ZH, Wr.Nr. 23003, "makeshift reconnaissance aircraft" flown by Lt.Wolfgang Ziese, 1./Versuchsverband OKL, August 1944




References / profiles

Dornier Do 335-435-635, Manfred Griehl
Motorbuch Verlag, pps 78, 80, 81, 85

Dornier 335 Arrow, J. Richard Smith, Eddie J. Creek, Thomas H. Hitchcock
Monogram Aviation Publications, pps 51, 52, 53, 54, 55, 56

On Special Missions - The Luftwaffe's Research and Experimental Squadrons 1923-1945
J. Richard Smith, Eddie J. Creek, Peter Petrick
Classic Publications, pps 48, 49, 50, 51




Additional informations

The Dornier Do 335 V3 was painted with the colors RLM 70/71/65, the spinner was black and the propeller blades were RLM 70. It is interesting to note here that the V3 was the only Do 335 that had a blue lower tail plane. All the other aircraft of this type had their lower tail plane painted RLM 70/71 and later RLM 80/81. Because of the lack of high performance long range reconnaissance aircraft, the Ju 88, Ju 188 and Ju 388 excepted, it was decided to build a "makeshift reconnaissance aircraft" based on the Do 335 A-1. The V1 and V3 were used as prototypes. The V3 as well as the V1 were equipped with sequential recon. cameras, located in the bomb bays.

The V3 joined 1./Versuchsverband OKL during August of 1944. It carried the Code T9+ZH. Problems with the engines as well as the landing gear prevented its use over the Invasion beaches and southern England . The end of its role as a "makeshift reconnaissance aircraft" came on Sept. 10th 1944 . The aircraft was again transferred to southern Germany . The evaluation by the operational unit it had served with was accordingly not very good. Between October 1944 and April 1945 the aircraft was tested and converted on numerous occasions. On April 16th 1945 , on a return flight from Rechlin by staff engineer Heinz Fischer, the compass malfunctioned and the pilot decided to take to the parachute west of Nancy.
meet the Author:

Simon Schatz

1978 I was born in Vienna and I am working as technical employee in an architect's office. I am building plastic models since I am 12. It started with a F-16 Fighting Falcon in 1/32, which was followed by a few cars and trucks. A Heinkel He111 H-6 in 1/72 brood my interest for the German Luftwaffe. Since 2001 I am creating color profiles also.

Some of them have been already published in relevant magazines and books. The motto for building models and drawing profiles is the same: Learning by Doing. To practise my passion it is required to collect the necessary documentation, an expensive, but interesting hobby, especially when I can obtain rare second hand aviation antiquars.
Email: simon_der_flieger@yahoo.de
Online-Portfolio / Publications


This page: PROFILES: Dornier Do 335 V3
was last modified on: Mar 05, 2006
The URL of the page is: http://www.rlm.at/cont/profil11_e.htm

© Copyright www.rlm.at and the contributing author(s). All Rights Reserved. Used with permission.

Terms of use: All material within this site is protected under copyright and may only be reproduced for personal use. You must contact the Author(s) and/or Editor for permission to use any material on this site for any purpose other than private use!