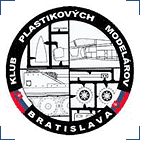 The Model competition PLASTIC WINTER has been arranged for the twelfth time by KPM Bratislava, and like the last years, was located at Dom Kultúry RUŽINOV, in the east of Bratislava. Again, the show has been organized perfectly, with pictures for the approach published on internet, inclusive GEO-position data. After submitting the models one was guided to the exhibition tables and there was always an English speaking person of KPM Bratislava available who did assist in case of any questions. Last years presence of well-assorted traders has been exceeded by a real big supply of kits, tools and accessory. The exhibition has been well attended and apart from pretty models and many temptations offered by the retailers we met many well known guys from near and far.

We enjoyed and are delighted to have joined this show – a great "Dankeschön"
to the team of KPM Bratislava!