Kamov Ka-27PL "Helix-A"

built by Christian Jakl (1/48)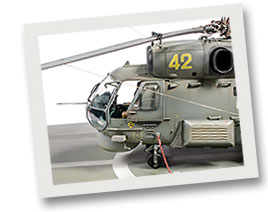 The Kamow Ka-27 military helicopter was developed 1968 as the direct successor to the Ka- 25. It possessed double the take-off weight within the same overall size as its predecessor. The Helix-A served in the Soviet navy as an all-weather helicopter that was deck landing qualified to counter enemy submarines. The machine also had transport capability. Like almost all Kamov helicopters it possessed two coaxial rotors with foldable rotor blades. A rear rotor was therefore unnecessary.

In order to facilitate operations in the Arctic the blades were heated and structurally, the design used corrosion proof materials. In the case of the Ka-27PL, a deck landing qualified ,anti submarine killer hunter was equipped with radar under the nose,a retractable dive sonar in the tail, a MAD- tow under the tail boom and weapons in the bomb bay.




Building & painting

The 1/48 scale model from Hobby Boss is the only show in town as of this writing. Easy to build, it is finely detailed and absolute tops in the quality and fit of the parts. There are a few problems however. The biggest problem is to be found in the decal sheet. The decal for the instrument panel is printed laterally reversed. Reach for a color picture and a paint brush to correct this. A few hydraulic lines are missing but that is easily corrected. The choice of variants are confined to a Russian or Ukrainian version. Different variants also should change camouflage dependent on the weaponry and cable winches. I decided for the Russian version. One can find many pictures of these versions on http://www.airliners.net.

There is not much to say about the actual construction since everything fits together well. If however you want to place the helicopter on a flight deck you need to think about how to storm proof the helicopter. Using lead wire and a lot of patience this is possible. To secure individual rotor blades is difficult. Too much tension and the wire will tear to little and wire will sag. Trial and error is necessary ...
Kamov Ka-27PL "Helix-A" (1:48)

Model built by & images taken by Christian Jakl

Gallery with diashow function: the direct download of an image on display is not possible anymore!
Please follow these steps for downloading: move with the mouse over the preview image and do a right mouseclick, which opens a menu with following option: save target (or link) as: will save the image in large size …

(click the images to enlarge)

Conclusion

Best described as "courage for ugliness". This helicopter is not really a feast for the eye but that is what makes it interesting. The Chinese manufacturers are devoting more and more effort to Russian military subjects. What is encouraging is the fact that the quality keeps improving. Anybody wanting to build a helicopter well and quickly should build this model. Beginners are also well served.

meet the author

Christian Jakl

I was born in Vienna in 1971 and now I live in the middle of the mountains in the Tyrol district. I am in marketing and my specialty is graphic design and layout. Ships, planes and automobiles is how it started and now I have taken up aircraft models only. I concentrate on the German and Soviet air force. My favorite mode of display are dioramas in 1/48 scale. Here I can let my imagination run wild and can produce many of parts. Experimentation and the use of new techniques are foremost on my mind. I also combine stock kits with other add onís and try out new tools. There is always a lot to learn.

It is not all that important to me if a detail is no exactly in the right spot; the final product has to look right. If somebody stands in front of my model and is enthused then I did my job right. The only problem I have is the time factor and in this I probably not alone. I wish everybody a lot of fun with this page and hope that critiques and comments are forthcoming.
Email: jakl.christian@gmx.at


This page: GALLERY: Kamov Ka-27PL "Helix-A" (1/48), built by Christian Jakl
was last modified on: Sep 12, 2016
The URL of the page is: http://www.rlm.at/cont/gal48_e.htm

© Copyright www.rlm.at and the contributing author(s). All Rights Reserved. Used with permission.

Terms of use: All material within this site is protected under copyright and may only be reproduced for personal use. You must contact the Author(s) and/or Editor for permission to use any material on this site for any purpose other than private use!