A-10A 82-0650, 81st EFS/455th AEW, Afghanistan, June 2003

built by Stefan Beck (1/48)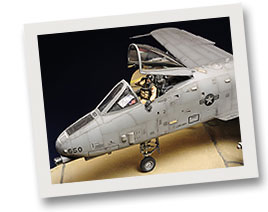 This aircraft was a cooperation between Northrop and Fairchild Republic, developed in the early 70's. After some prototypes and testing airframes it was finally designated as A-10 in the ground attack role.

Main design features: Armored tub made of titan, covers the pilot and parts of the avionics. Critical parts have redundant layout e.g.: engine, hydraulic controls or tail fin. High survivability even with serious damage on fuselage or wings Great flight characteristics at low speed or low heights High payload, up to about

7200 kg

. Last but not least the unique 30mm Gatling machine gun GAU-8/A Avenger used by A-10 only.




Inspiration

Since a long time I'm thinking of building some aircraft, my main interests are modern tanks so I'm not attracted to sleek jets, I need something with, well put it in a polite way, character... A-10 it is, in all her *cough* glory. All right, the original was found, reference is plentiful. My main source was "Osprey Combat Aircraft 98: A-10 Thunderbolt II, Units Of Operation Enduring Freedom", in there are some nice colour profiles amongst other things the "A-10A 82-0650 of the 81st EFS/455th AEW, Bagram AB, Afghanistan, June 2003" is included and fortunately "Astra Decals" provide decals for the 81st EFS, so no more excuses for some furious modelling!
A-10A 82-0650, 81st EFS/455th AEW, Bagram AB, Juni 2003 (1:48)

Diorama built by Stefan Beck, photos taken by Wolfram Bradac

Gallery with diashow function: the direct download of an image on display is not possible anymore!
Please follow these steps for downloading: move with the mouse over the preview image and do a right mouseclick, which opens a menu with following option: save target (or link) as: will save the image in large size …

(click the images to enlarge)



Building the Hobbyboss A-10

Well, the kit of the A-10 Thunderbolt II in 1/48 scale by "Hobbyboss" is kind of an early work. This means you have to putty and file some gaps, the layout of the kit seems to prefer the "all doors open" option. So if you want to portray closed doors nothing fits smoothly. This causes major work to get new panel lines and decent rivet details. According to the rest of the kit the cockpit is quite simple; "Aires" helps us out. Did I mention "Aires"...not just the cockpit was planned to be replaced by this brand, the wheel bays should also be in resin; but I was not able to get the main wheel bays fit, just the front section was used. I doubt that this set is designed for the "Hobbyboss" kit, just my two cents.

For general detail I used the "Eduard BigEd" set, this includes etched brass for exterior, interior, gun bay, armament and some masks for the cockpit, remember the masks, we will need them later. All parts for interior and exterior were used for good effect, gun bay was not necessary; the kit wheel bays get some nice details thanks to "Eduard". Even the landing gear benefits from "Eduard" treatment, for the wheels I used "True Details"second to none details, period! Ok the plane is done, now for some guns 'n' ammo. "Mk. 82" Bombs, "AIM-9M-9/L Sidewinder" and "GBU-24" all part of the "Eduard" family, the "LAU-131/A rocket pod" is completely scratch built, "AGM-65D Maverick" and "GBU-12" are kit parts detailed with etched parts.

The "AN/AAQ-28 litening II targeting pod" has its origin from a "Hasegawa" weapons set. "AN/ARC-235 Fighter aircraft Command & Control Enhancement (FACE) pod"is scratch built. What's left, of course the mighty GAU-8/A. "Master-Model" does an absolute masterpiece of turned brass. It's a must have, a pitot probe is also included, appreciate that!




Painting

Painting an A-10 is an easy task. First of all we need some pre-shading. Right after that "Gunze H307 (Gray FS36320)" and "Gunze H308 (Gray FS36375)" were used for camouflage, referencing to some pictures of the original. Not to forget the painted cockpit mock up on the underside of the fuselage, this time in "Gunze H305 (Gray FS36118)". Some Details were picked out with lightened shades of gray, not the book nor the movie.Next step was to post shade the whole airframe, all the same for the payload just in a range of olive drab.

To get everything ready for decaling I applied a coat of "Gunze" clear gloss to provide a shiny and hard surface. All stencils and markings are a mixture of "Astra Decals" and kit decals; again good reference is essential. Now everything is sealed in with "Gunze" clear flat, during curing I marched on for the cockpit. We remember, masking material is part of the "Eduard BigEd" set, so why not to use it... BUT they won't fit anyhow, so back to basics and all the masking made by "Tamiya" tape.




Weathering

To highlight all the details and panel lines I used a dark pin washing followed by an oil paint treatment to get some interesting effects on these masses of gray. Chipping was also used for good effect, these birds are surprisingly filthy and beaten up in places where the crew is working, always keep an eye on your reference pictures. For final touches I applied some pigments on the landing gear and the surroundings of the

GAU-8/A

. Aircraft ready, but how to display?




Runaway & crew

All my models are on a base, so a runway it is. This is an easy task, just cut a piece of "Styrofoam" and engrave the concrete slabs, for the joint seals I used "Miliput". Paint it and presto, your Bagram Airfield!

While building the aircraft I had a pilot in my mind, he's scratch built with an "Aerobonus" head, same for the ground crew guy. Painting is done with "Vallejo" colours, nothing fancy here.




Conclusion

Quite happy with the outcome I have to say. Some tough lessons learned, after all my first aircraft is finished! Of course an all bare metal fighter is another level of scale modelling but I like the rough look, so let's see if another airplane will land on my workbench in the near future ...

meet the modeler

Stefan Beck

My name is Stefan Beck. I began modeling very early, probably since I started thinking. Like many others I started with Airfix and Esci. As the years passed and the modeling budget increased the subject matter also grew in complexity. I now build (civilian) motorcycles, (military) dioramas and figures but also Science Fiction (Warhammer 40000) in diverse scales (1:12 to 1:285).

If you have questions or constructive criticism donít hesitate and contact me.
Email: stefanbeck@inode.at


This page: GALLERY: A-10A 82-0650, 81st EFS/455th AEW, Afghanistan, Juni 2003 (1:48), built by Stefan Beck
was last modified on: May 02, 2015
The URL of the page is: http://www.rlm.at/cont/gal45_e.htm

© Copyright www.rlm.at and the contributing author(s). All Rights Reserved. Used with permission.

Terms of use: All material within this site is protected under copyright and may only be reproduced for personal use. You must contact the Author(s) and/or Editor for permission to use any material on this site for any purpose other than private use!